KFC Kikokusha Shin-Nagata Community -the 1st part
2021.10.06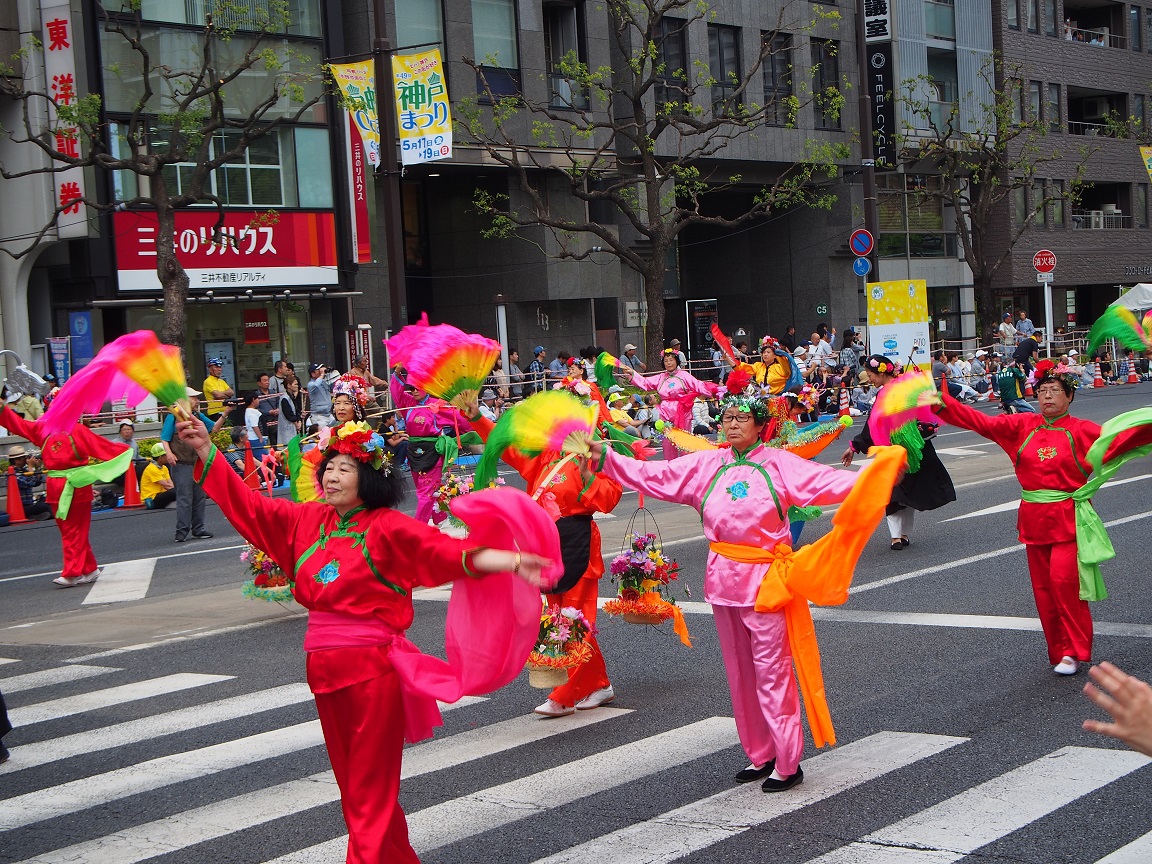 Although many people visit FUTABA International Center every day, one of the most energetic day in a week is Tuesday, when KFC Kikokusha Sin-Nagata Community has their activity.
KFC Kikokusha Shin-Nagata Community is a name of group where people back from China(called Kikokusha) can spend a time while feeling relaxed using Chinese, based at Kobe-shi, Nagata-ku since 2011.
Kikokusha back from China
Kikokusha back from China means Japanese orphans and ladies and their family (including 1st generation, 2nd generation and their spouses) who came back to Japan while being permitted to live in Japan permanently after the recovery of national relations between China and Japan in 1972. Historically, they were the people who migrated to North East part of China (mainly as members of pioneer groups) during the period of WWII, and later being forced to remain in China after WWII while being unable to come back to Japan.
A lot of Kikokusha people living in various places including Meimai public housing (located in the border of Kobe city and Akashi city), Nagata ward, Hyogo ward, Nishinomiya city, Kakogawa city and even people living in Himeji city come to join the activities of the community. For the detail and background of Kikokusha and their episodes, they are available to read on the Web page of KFC. From the Web page, you can access to the brochure of the community and annual magazines.
→<<https://www.social-b.net/kfc/katudou/kikokusya.html>>
The activities of the community group consist of Japanese class to learn vocabulary needed in their daily life and a wide variety of activities that take importance on respecting their cultural background, such as Chinese chess, table tennis, Tai Chi, Square dance and Yang-Ge dance.
In addition to that, the community group participate in some local events such as Kobe festival as a part of local community. Students and children around the area also visit the community and interact with them by enjoying the square dance or Tai Chi.
Kikokusha people have experienced a lot of difficulties both in China and Japan. Nowadays, they even have a difficulty of isolation (living alone) or a difficulty of medical care and nursing care as they get older. However, they enjoy to join the activities of the community while freely expressing themselves as they are with smiles.
Japanese class
In the Japanese class, participants enjoy learning vocabulary which is useful in daily life, which is used in the scenes of nursing care and medical care, or which is related to Japanese culture.
In the class when the picture below was taken, the topic of the class was "disaster prevention". A volunteer teacher explained how to use a survival kit by showing the real sample. Kikokusha participants were listening to the teacher with interest while asking questions.
At another time, they were learning about the geography of Kobe. They were checking which part of Kobe their houses are located and each name of places or stations around their house.
Tai Chi
They train Taichi together after the Japanese class. People who are good at Taichi become teachers and others are learning from them. Even people who do not know Taichi well still try the best training it while imitating the move of teachers.
Taichi is one of the "Sports Heritages" in Chinese culture. Taichi is one of martial arts, and also one of arts. The relaxing and freely moving action is a sport which make body and mental condition healthy.
Among Taichi series, "24 form Taichi" is relatively easy and commonly known among Chinese people. The characteristic of Taichi is its smooth and soft move. It is good for people nowadays with busy lifestyle and also good for people who have a chronic disease. You will be able to ease your daily tiredness and pressure by training Taichi every day even for a short period of time. It is so important for people.
I think keeping to train Taichi every day is very useful for elderly people to train and strengthen their body to avoid getting diseases. Since elderly people cannot do too hard exercises, Taichi, in which stillness and moves are combined effectively, is the best sport for them.
(Ms. R : Spouse of a 1st generation man)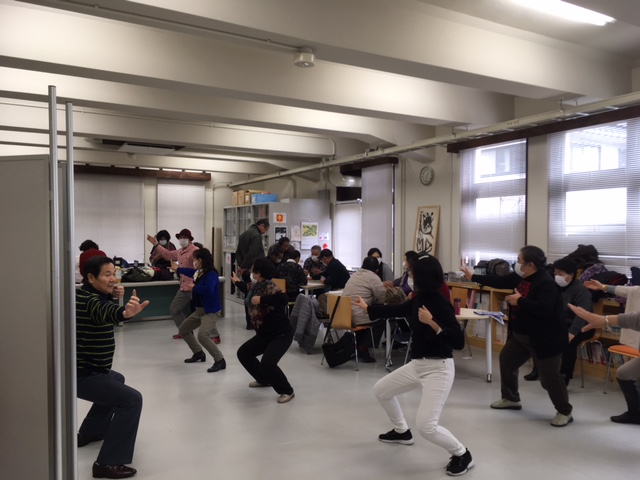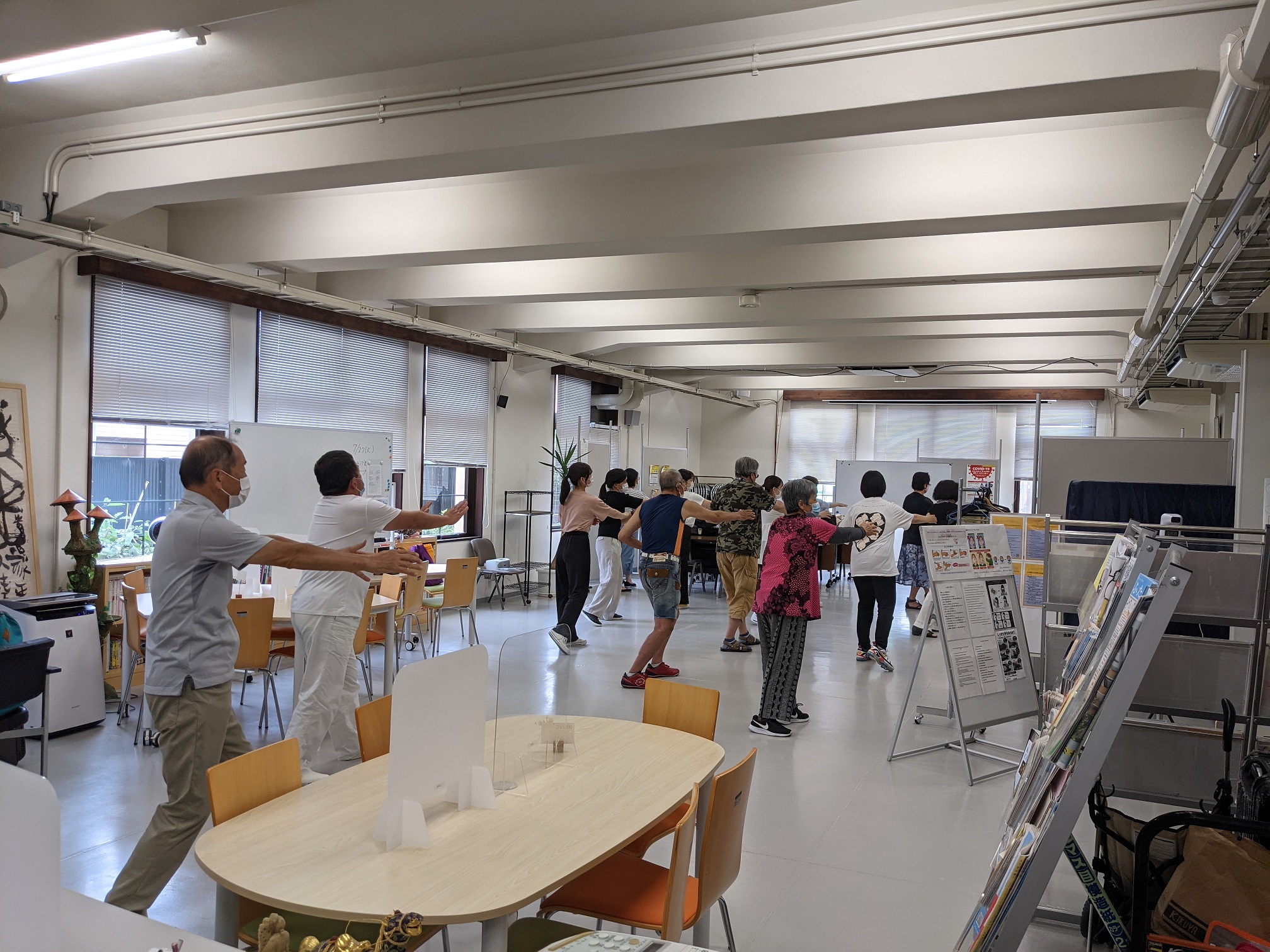 Square Dance
In China, many people are gathering at parks in the morning and evening and enjoy dancing with various kinds of music. In the Kikokusha community, square dance is one of the most popular activities. When they dance, they move so quickly to the rhythm regardless of their age.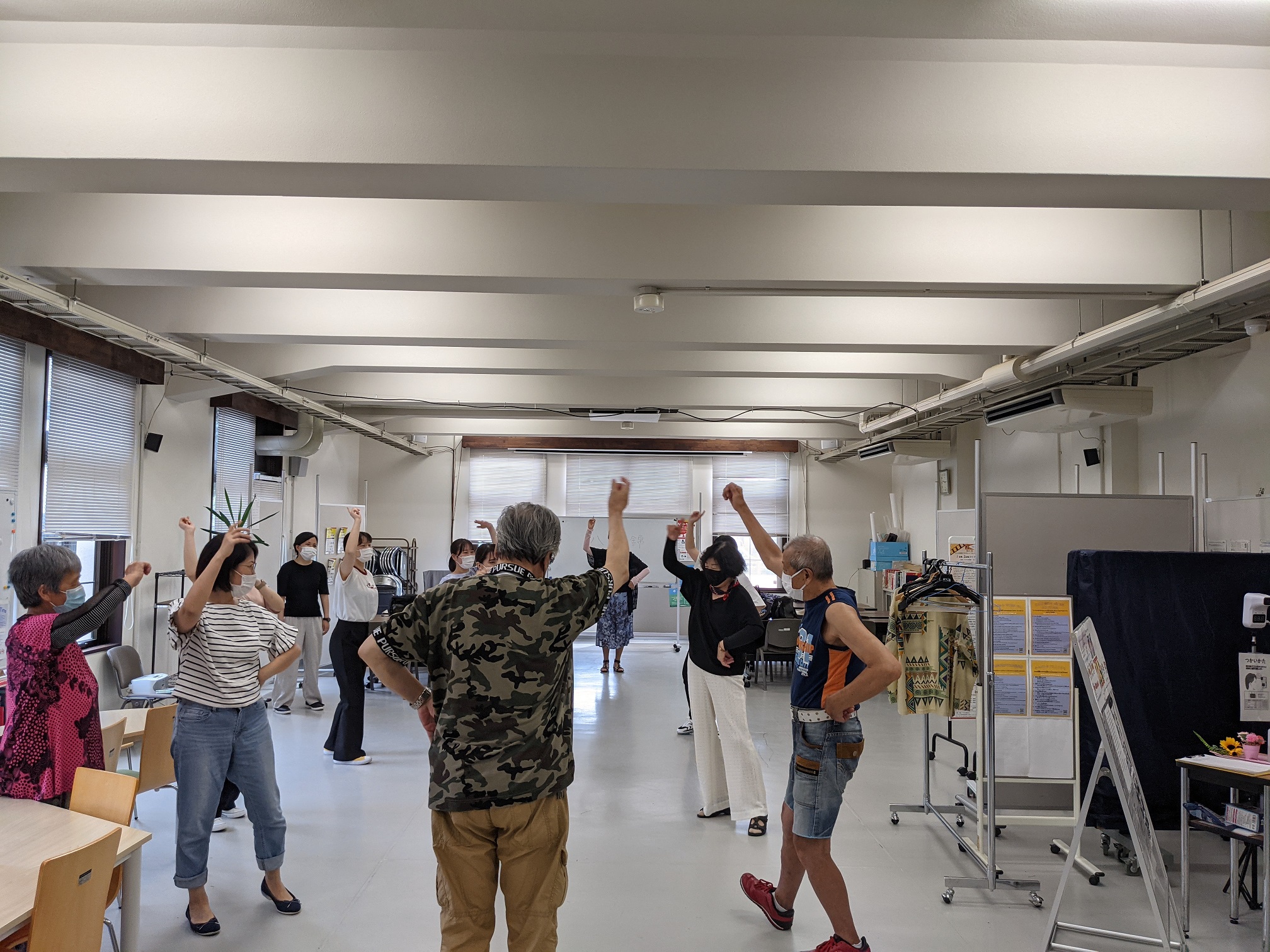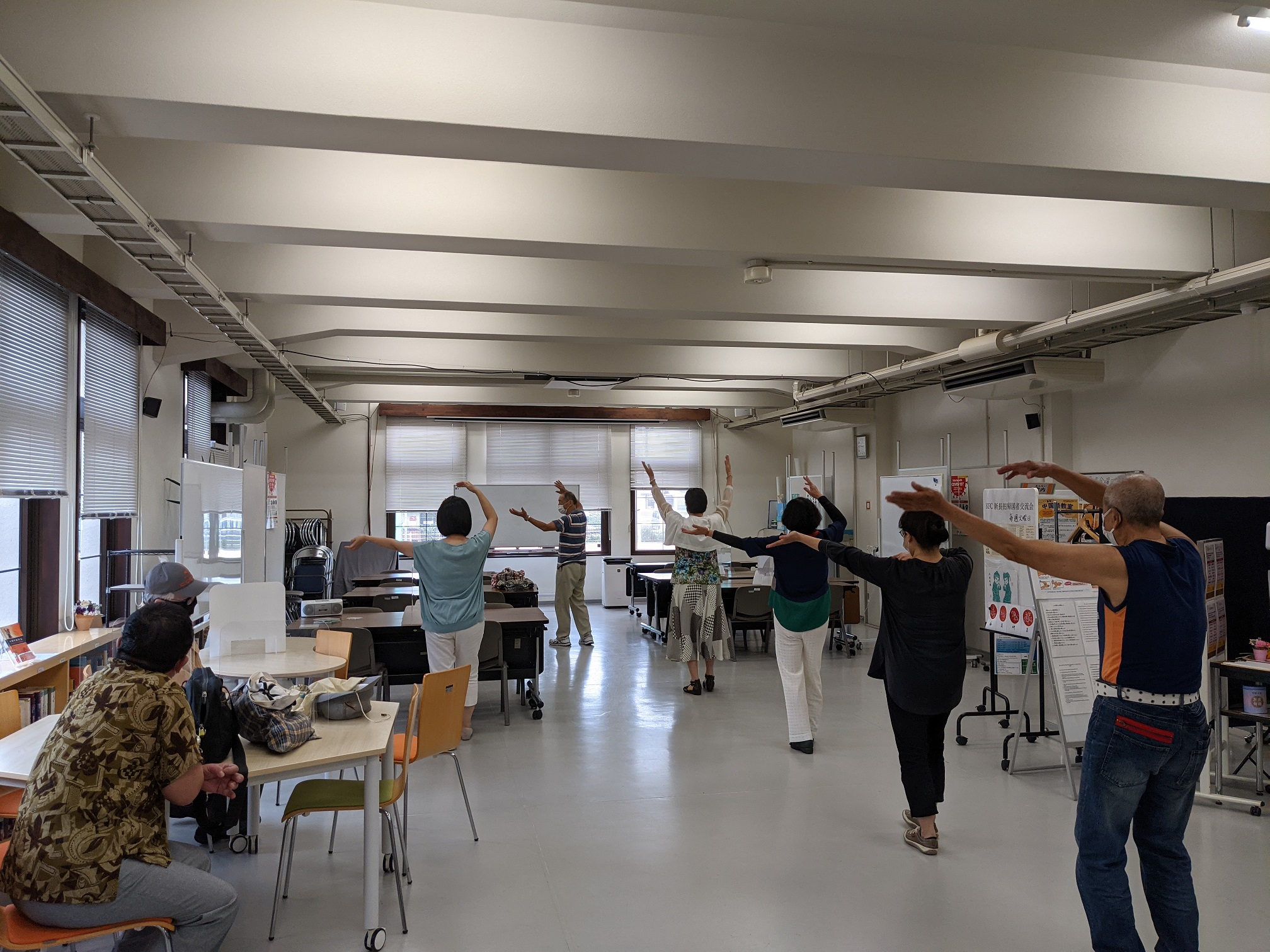 Yang-Ge dance
Yang-Ge dance is a traditional dance in the rural area of China. People wearing vivid ethnic costumes walk and dance while shaking Sensu fans. It is a dance that Kikokusha people have learnt when they lived with their adoptive parents in China. Their Yang-Ge dance can be recognized as a kind of arts that they have learnt through their peculiar historical background. Now, they are performing Yang-Ge dance at Kobe festival and other local festivals.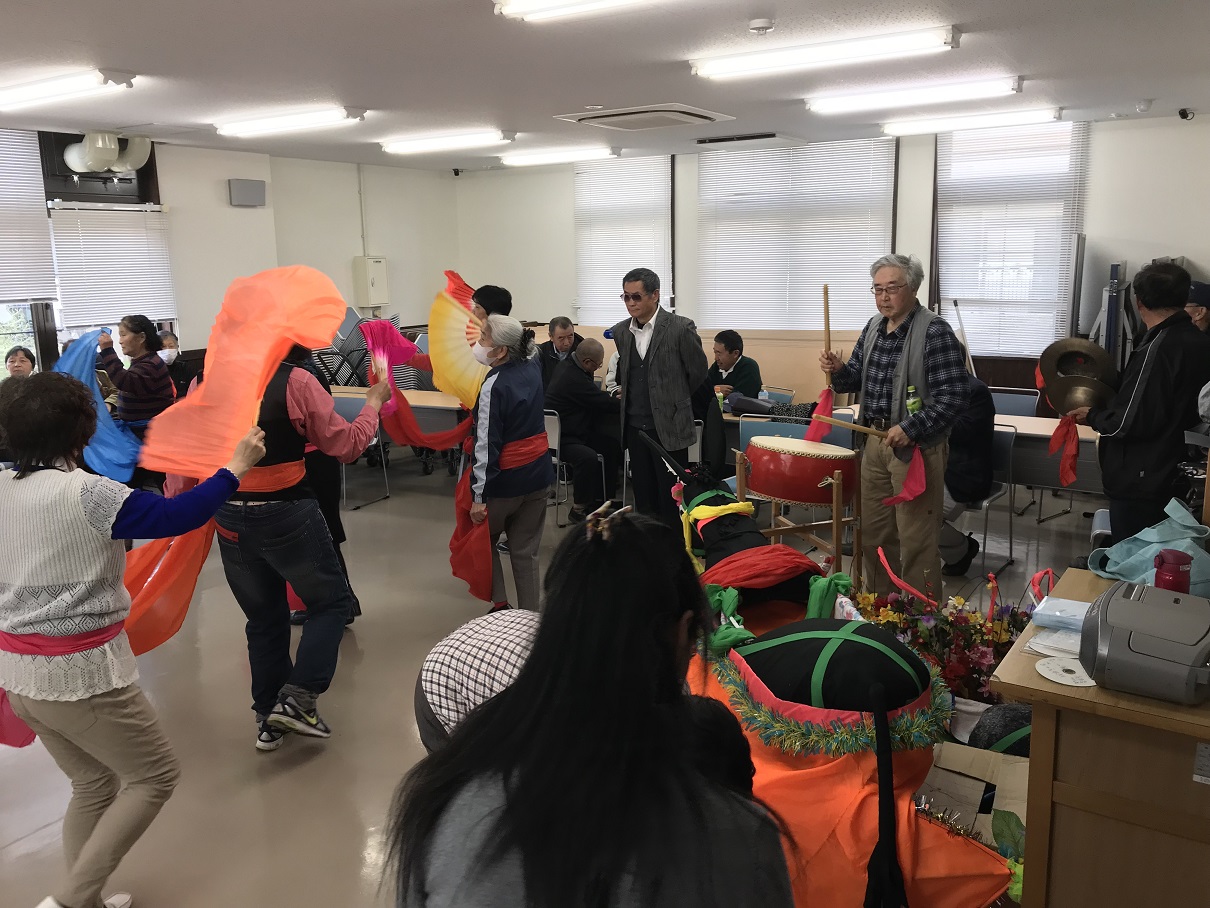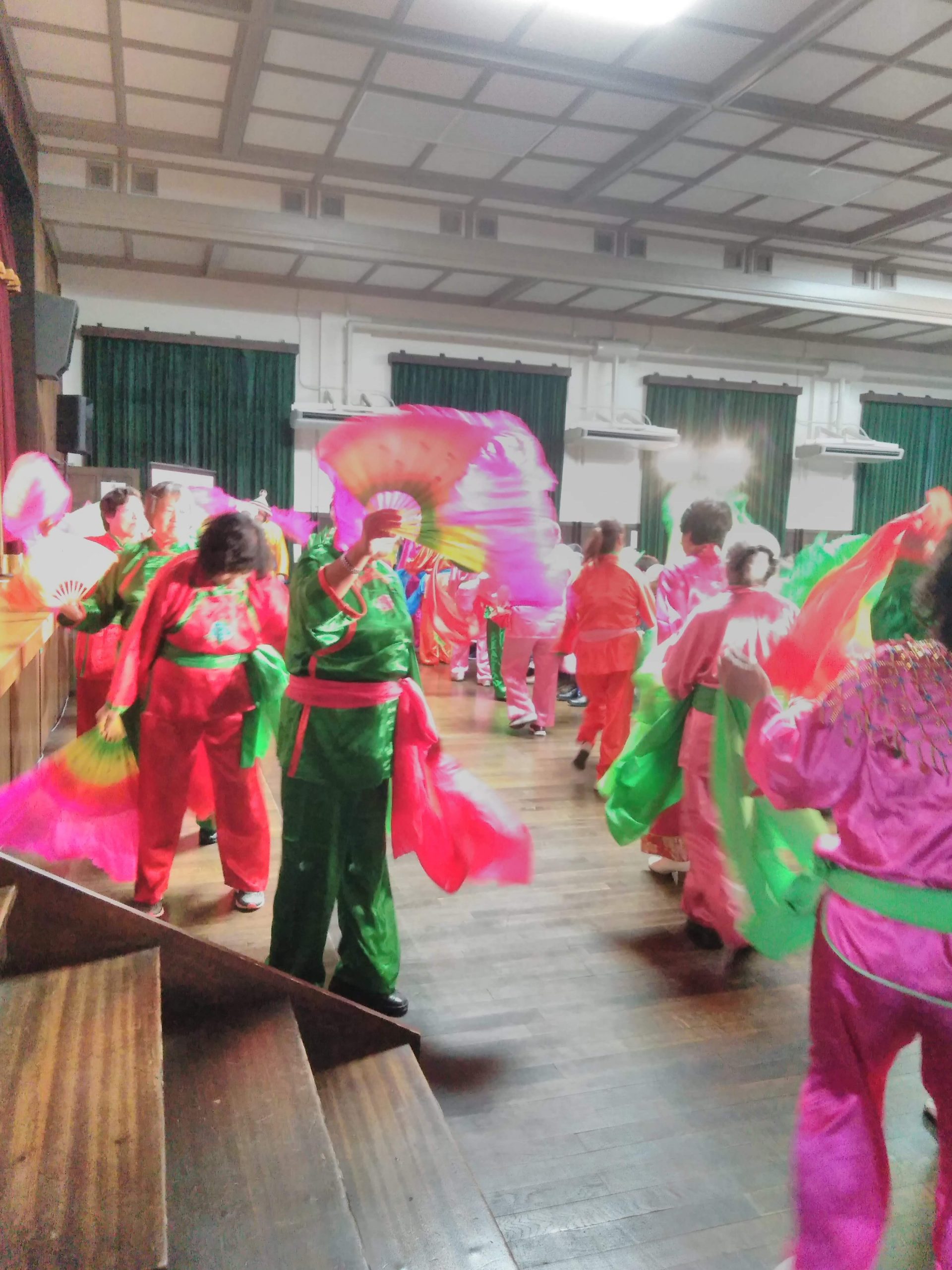 "New Star of Kobe Festival"
In the parade of 49th Kobe festival held on May 19th 2019, one of the most noticeable performances was our parade, which is the energetic Yang-Ge dance from north east part of China. In the performance, some people were wearing costumes related to Chinese mythology such as Sun Wu Kong or Zhu Ba Jie. There were also people who were dancing while carrying a Chinese traditional replica ship, a replica donkey, and flower basket etc. The gorgeous dance was performed in the lively music of resounding gong and street flute, which was so impressive.
Being able to be applauded by many audiences, I was proud of our Yang-Ge dance team of KFC Shin-Nagata Kikokusha community at KFC and Kobe Chinese Dress Team. I am sure that our performance made Kobe festival more international and it promoted Chinese culture well. Without doubt I think that we were the new star shining at Kobe festival.
On the day, the chairman of KFC led our group together with his staff members. Many people from Hyogo Zanryu Koji Support Association, Kikokusha group, and Kobe Kikokusha Japanese Volunteering Association, etc visited us. Many family members of Kikokusha families also came to see us from various places. (My daughter and grandson also came to see our performance.) These supports encouraged us a lot. It was truly successful.
However, on the other hand I have a concern, which is most of Kikokusha who are performing Yang-Ge dance are already too old and body conditions are not good. The average age is around 70. Now I am hoping that anyone to take over our Yang-Ge dance and continue to participate in Kobe festival and promote Chinese culture to people in Kobe. This is the hope of every Kikokusha.
(Mr. H : the 1st generation)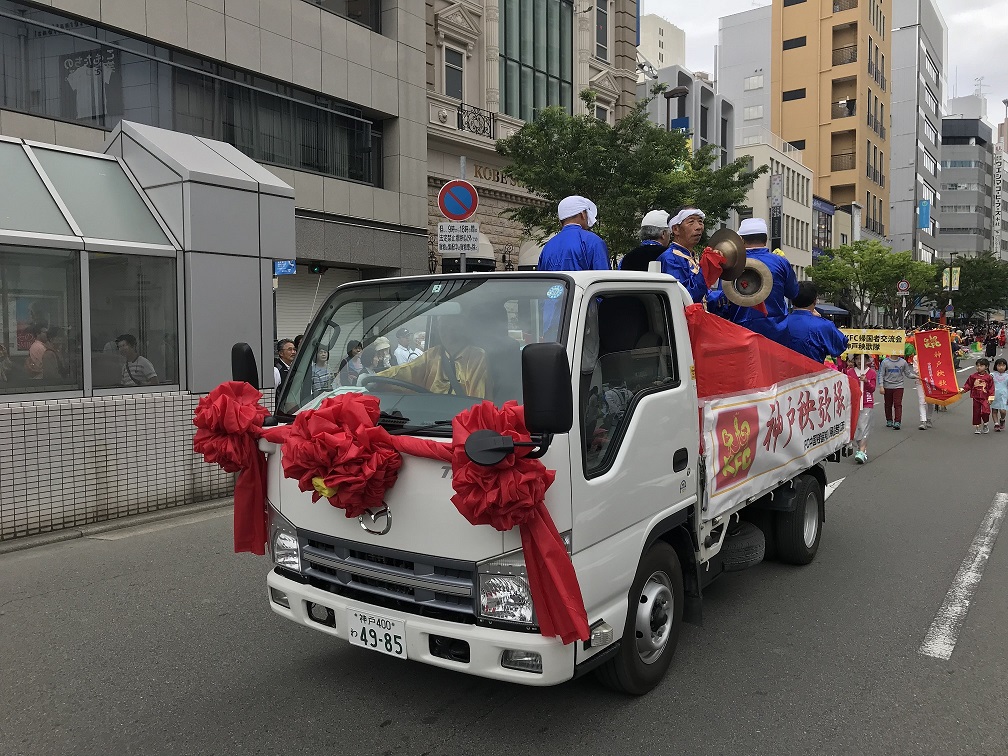 Now after being influenced by the covid-19 pandemic, most of people become unable to participate in the activities of the community. Nowadays there are only 7 to 8 participants in the community activities which was used to be 30 to 40 people. The activity itself is limited to something permitted by taking measures to the covid-19, and their favorite activities such as cooking parties of Chinese dishes in Chinese New Year and the Respect-for Senior-Citizens Day, or Karaoke party cannot be carried out now. Nevertheless, since there are  still people who hope to join the community activities, it has been continuing the Japanese class and some interaction activities while taking measures to the covid-19.
On the other hand, many people who cannot come to join the activities has become staying at their home for longer time and the opportunity to use Japanese or opportunity to talk with friends has been decreased. In order to provide them an opportunity to talk with others, we have started Online Japanese class for them by using the video chat of Chinese SNS "WeChat". For the detail of the class, please read the next article.